Apples to Apples
The party game Apples to Apples consists of two decks of cards: Things and Descriptions. Each round, the active player draws a Description card (which features an adjective like "Hairy" or "Smarmy") from the deck, then the other players each secretly choose the Thing card in hand that best matches that description and plays it face-down on the table. The active player then reveals these cards and chooses the Thing card that, in his opinion, best matches the Description card, which he awards to whoever played that Thing card. This player becomes the new active player for the next round.
Bananagrams
Bananagrams is a fast and fun word game that requires no pencil, paper or board, and the tiles come in a fabric banana-shaped carrying pouch. One hand can be played in as little as five minutes. Much like Pick Two!, but without the letter values. Using a selection of 144 plastic letter tiles in the English edition, each player works independently to create their own 'crossword' faster than one's opponents. When a player uses up all their letters, all players take a new tile from the pool. The object of the game is to be the first to complete a word grid after the "bunch" of tiles has been depleted.
Checkers
Abstract strategy game where players move disc-shaped pieces across an 8 by 8 cross-hatched ("checker") board. Pieces only move diagonally, and only one space at a time. If a player can move one of his pieces so that it jumps over an adjacent piece of their opponent and into an empty space, that player captures the opponent's disc. Jumping moves must be taken when possible, thereby creating a strategy game where players offer up jumps in exchange for setting up the board so that they jump even more pieces on their turn. A player wins by removing all of his opponent's pieces from the board or by blocking the opponent so that he has no more moves.
Chess
Chess is a two-player, abstract strategy board game that represents medieval warfare on an 8x8 board with alternating light and dark squares. Opposing pieces, traditionally designated White and Black, are initially lined up on either side. Each type of piece has a unique form of movement and capturing occurs when a piece, via its movement, occupies the square of an opposing piece. Players take turns moving one of their pieces in an attempt to capture, attack, defend, or develop their positions. Chess games can end in checkmate, resignation, or one of several types of draws.

Connect Four
Connect 4 is a well known vertical game played with "checkers" (it is more akin to Tic Tac Toe or Go Moku).
The board is placed in the stand to hold it vertically and the players drop checkers into one of the 7 slots, each of which holds 6 of the "checker's" men, until one player succeeds in getting 4 in a row--horizontally, vertically or diagonally.

Rainbow Jumbling Tower (Jenga)
You take turns with other players removing rectangular wooden blocks from a block tower. Each time you take one out, you put it on top. The object is to not knock the tower over while removing pieces. In difference of some other Mechanism: Tower Stacking, you must space out the blocks on Tumbling Tower in order for it to make a nicely shaped tower.
Scattergories
"The Game of Scattergories," published in 1988 by Milton Bradley, is a great game for any group to play. In the game each player fills out a category list 'with answers that begin with the same letter.' If no other player matches your answers, you score points. The game is played in rounds. After 3 rounds a winner is declared, and a new game can be begun.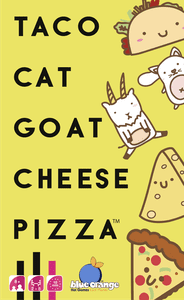 Taco Cat Goat Cheese Pizza
Taco Cat Goat Cheese Pizza is filled to the brim with hand-slapping mayhem! As in Snap and Dobble, each player places a card from their hand face up into a community pile while saying taco/cat/goat/cheese/pizza in player sequence. When the card matches the mantra — boom! — everyone slaps their hand on the deck, with the last one to slap picking up the cards. Whoever rids themselves of cards first wins!

UNO
Easy to pick up... impossible to put down! Race to get rid of all your cards. Match colors or numbers. Use the action cards or house rule cards against your opponents. When you're down to one card, don't forget to yell "UNO!"