Apples to Apples
The party game Apples to Apples consists of two decks of cards: Things and Descriptions. Each round, the active player draws a Description card (which features an adjective like "Hairy" or "Smarmy") from the deck, then the other players each secretly choose the Thing card in hand that best matches that description and plays it face-down on the table. The active player then reveals these cards and chooses the Thing card that, in his opinion, best matches the Description card, which he awards to whoever played that Thing card. This player becomes the new active player for the next round.
Bananagrams
Bananagrams is a fast and fun word game that requires no pencil, paper or board, and the tiles come in a fabric banana-shaped carrying pouch. One hand can be played in as little as five minutes. Much like Pick Two!, but without the letter values. Using a selection of 144 plastic letter tiles in the English edition, each player works independently to create their own 'crossword' faster than one's opponents. When a player uses up all their letters, all players take a new tile from the pool. The object of the game is to be the first to complete a word grid after the "bunch" of tiles has been depleted.
Checkers
Abstract strategy game where players move disc-shaped pieces across an 8 by 8 cross-hatched ("checker") board. Pieces only move diagonally, and only one space at a time. If a player can move one of his pieces so that it jumps over an adjacent piece of their opponent and into an empty space, that player captures the opponent's disc. Jumping moves must be taken when possible, thereby creating a strategy game where players offer up jumps in exchange for setting up the board so that they jump even more pieces on their turn. A player wins by removing all of his opponent's pieces from the board or by blocking the opponent so that he has no more moves.
Chess
Chess is a two-player, abstract strategy board game that represents medieval warfare on an 8x8 board with alternating light and dark squares. Opposing pieces, traditionally designated White and Black, are initially lined up on either side. Each type of piece has a unique form of movement and capturing occurs when a piece, via its movement, occupies the square of an opposing piece. Players take turns moving one of their pieces in an attempt to capture, attack, defend, or develop their positions. Chess games can end in checkmate, resignation, or one of several types of draws.

Connect Four
Connect 4 is a well known vertical game played with "checkers" (it is more akin to Tic Tac Toe or Go Moku).
The board is placed in the stand to hold it vertically and the players drop checkers into one of the 7 slots, each of which holds 6 of the "checker's" men, until one player succeeds in getting 4 in a row--horizontally, vertically or diagonally.

Rainbow Jumbling Tower (Jenga)
You take turns with other players removing rectangular wooden blocks from a block tower. Each time you take one out, you put it on top. The object is to not knock the tower over while removing pieces. In difference of some other Mechanism: Tower Stacking, you must space out the blocks on Tumbling Tower in order for it to make a nicely shaped tower.
Scattergories
"The Game of Scattergories," published in 1988 by Milton Bradley, is a great game for any group to play. In the game each player fills out a category list 'with answers that begin with the same letter.' If no other player matches your answers, you score points. The game is played in rounds. After 3 rounds a winner is declared, and a new game can be begun.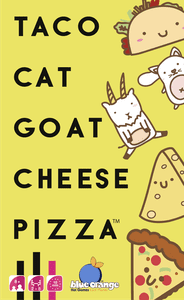 Taco Cat Goat Cheese Pizza
Taco Cat Goat Cheese Pizza is filled to the brim with hand-slapping mayhem! As in Snap and Dobble, each player places a card from their hand face up into a community pile while saying taco/cat/goat/cheese/pizza in player sequence. When the card matches the mantra — boom! — everyone slaps their hand on the deck, with the last one to slap picking up the cards. Whoever rids themselves of cards first wins!

UNO
Easy to pick up... impossible to put down! Race to get rid of all your cards. Match colors or numbers. Use the action cards or house rule cards against your opponents. When you're down to one card, don't forget to yell "UNO!"
In this classic word game, players use their seven drawn letter-tiles to form words on the gameboard. Each word laid out earns points based on the commonality of the letters used, with certain board spaces giving bonuses. But a word can only be played if it uses at least one already-played tile or adds to an already-played word. This leads to slightly tactical play, as potential words are rejected because they would give an opponent too much access to the better bonus spaces.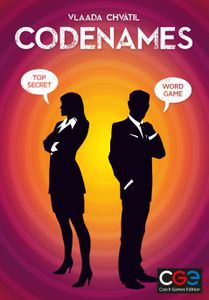 Codenames is an easy party game to solve puzzles.
The game is divided into red and blue, each side has a team leader, the team leader's goal is to lead their team to the final victory.
At the beginning of the game, there will be 25 cards on the table with different words. Each card has a corresponding position, representing different colors.
Only the team leader can see the color of the card. The team leader should prompt according to the words, let his team members find out the cards of their corresponding colors, and find out all the cards of their own colors to win.
Exploding Kittens is a kitty-powered version of Russian Roulette. Players take turns drawing cards until someone draws an exploding kitten and loses the game. The deck is made up of cards that let you avoid exploding by peeking at cards before you draw, forcing your opponent to draw multiple cards, or shuffling the deck.
Throw Throw Burrito is what you get when you cross a card game with dodgeball. Try to collect matching sets of cards faster than your opponents while simultaneously ducking, dodging, and throwing squishy airborne burritos. The cards you collect earn points, but getting hit by flying burritos loses them. So clear some space and put away the antiques, because you've never played a card game quite like this before.
The classic detective game! In Clue, players move from room to room in a mansion to solve the mystery of: who done it, with what, and where? Players are dealt character, weapon, and location cards after the top card from each card type is secretly placed in the confidential file in the middle of the board. Players must move to a room and then make an accusation against a character saying they did it in that room with a specific weapon. The player to the left must show one of any cards accused to the accuser if in that player's hand. Through deductive reasoning each player must figure out which character, weapon, and location are in the secret file.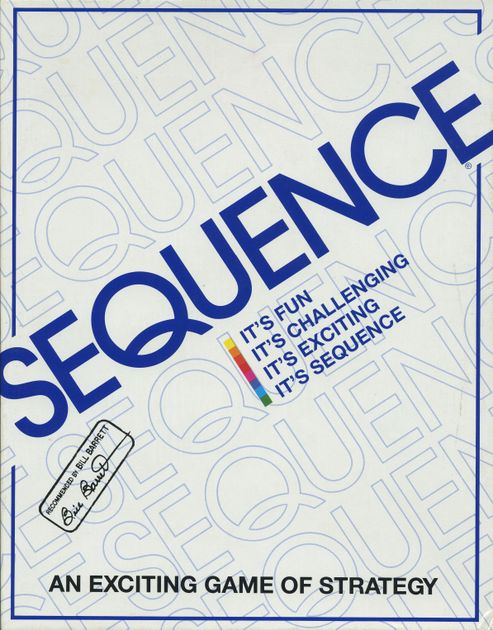 Sequence is a board and card game. The board shows all the cards (except for the Jacks) of two (2) standard 52-card decks, laid in a 10 x 10 pattern. The four corners are free spaces and count for all players equally.
The players compete to create rows, columns or diagonals of 5 connected checkers placed on the cards that the player has laid down. Two-eyed Jacks are wild, while one-eyed Jacks allow an opponent's checker to be removed. The game ends when someone has reached a specified number of connections.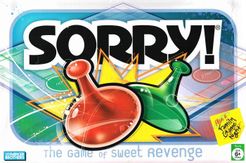 Race your four game pieces from Start around the board to your Home in this Pachisi type game. By turning over a card from the draw deck and following its instructions, players move their pieces around the game board, switch places with players, and knock opponents' pieces off the track and back to their Start position.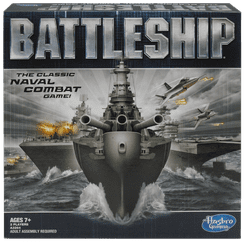 Each player deploys his ships (of lengths varying from 2 to 5 squares) secretly on a square grid. Then each player shoots at the other's grid by calling a location. The defender responds by "Hit!" or "Miss!". You try to deduce where the enemy ships are and sink them. First to do so wins.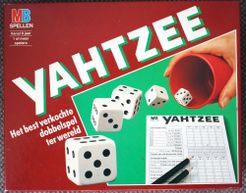 Yahtzee is a classic dice game played with 5 dice. Each player's turn consists of rolling the dice up to 3 times in hope of making 1 of 13 categories. Examples of categories are 3 of a kind, 4 of a kind, straight, full house, etc. Each player tries to fill in a score for each category, but this is not always possible. When all players have entered a score or a zero for all 13 categories, the game ends and total scores are compared.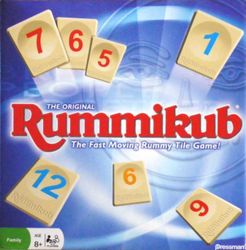 The game is based on the traditional middle-eastern game of Okey. First created in the 1930s and sold in hand-produced versions until the late 1970s.
Similar to the Rummy that you play with cards - you try to get rid of all your tiles by forming numbers into runs of 3 tiles or more, or 3 to 4 of a kind. The colors of the numbers on the tiles are like card suits. This game may start rather uneventfully, but when the players start putting more and more tiles in play, the options for your upcoming turns can become more complex, challenging, and exciting.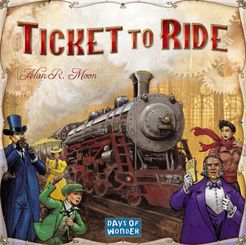 With elegantly simple gameplay, Ticket to Ride can be learned in under 15 minutes. Players collect cards of various types of train cars they then use to claim railway routes in North America. The longer the routes, the more points they earn. Additional points come to those who fulfill Destination Tickets – goal cards that connect distant cities; and to the player who builds the longest continuous route.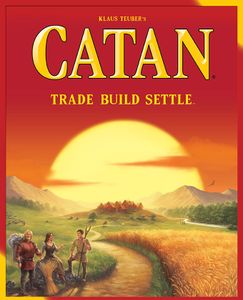 In CATAN (formerly The Settlers of Catan), players try to be the dominant force on the island of Catan by building settlements, cities, and roads. On each turn dice are rolled to determine what resources the island produces. Players build by spending resources (sheep, wheat, wood, brick and ore) that are depicted by these resource cards; each land type, with the exception of the unproductive desert, produces a specific resource: hills produce brick, forests produce wood, mountains produce ore, fields produce wheat, and pastures produce sheep.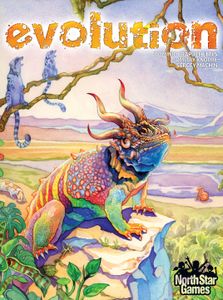 In Evolution, players adapt their species in a dynamic ecosystem where food is scarce and predators lurk. Traits like Hard Shell and Horns will protect your species from Carnivores, while a Long Neck will help them get food that others cannot reach. With over 4,000 ways to evolve your species, every game becomes a different adventure.
Evolution packs a surprising amount of variety for a game with simple rules. The variety comes from the synergies between the trait cards and from the different personalities at the table. Some players thrive on creating Carnivores to wreak havoc on their fellow players. Others prefer to stay protected and mind their own business. Evolution encourages both play styles by giving each of them multiple paths to victory. And it is the mix of play styles at the table that ultimately determines the ecosystem in which the players are adapting. So gather your friends and see who can best adapt to the changing world around them.